This week the cohort talked about dealing with conflict, how to engage in confrontation in a productive way, and the importance of being your own advocate, both in the personal and professional sphere! As it was Valentine's Day, we also gave each other Valentine's Day cards and had some delicious treats curtesy of our Director and her mentees!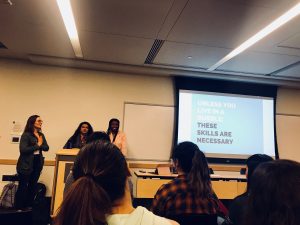 Abby, Clarisse, and Larissa during their presentation
Meeting Takeaways:
Conflict is an opportunity for greater understanding, rather than polarizing people from each other
You have a right to advocate for yourself and you can do it in a professional way (and possibly foster a better relationship)
---
Check out the Conflict, Confrontation, and Self-Advocacy Folder in the Google Drive to see the worksheets, agenda, and powerpoint from the meeting!