---
The 2019 Leader Application is open!
The application is due Wednesday October 30th, 2018 at 11:59 pm. If you have questions please email asuwlead@uw.edu.
The Director and Assistant Director for 2018-2019 will be hosting office hours every Friday from 1-2pm in HUB 131C! Please drop by to chat or if you have any questions about the application!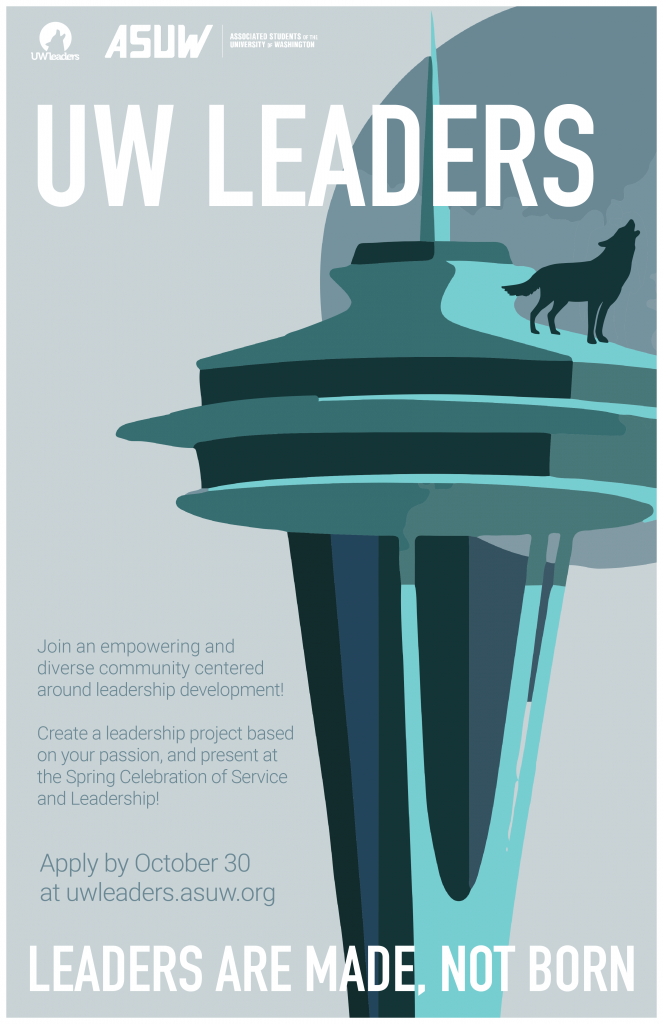 ---
 The 2018 cohort Leaders consisted of forty-six freshman, sophomore, and transfer juniors with a wide array of interests, majors, backgrounds, and perspectives! We encourage you to check out the 2018 cohort of Leaders by clicking here!
---
UW Leaders is…
UW Leaders (UWL) is an entity within the  Associated Students of the University of Washington (ASUW). UWL offers leadership-building opportunities for first, second, and transfer third-year students. Whether students have been involved in past leadership or are looking to get started, UWL gives students the tools and support necessary to become the leader they want to be. We believe that Leaders are made not born, so every student has the potential to be a change-maker on campus and the greater Seattle are!
---
2019 Workshop Schedule TBD.
Check out last year's workshops!
Below is a schedule of all the 2018 workshop topics.  Each week will be focussed around a different area of personal or professional development.  As we move through the program, resources from each workshop will be posted on this site as well as in a Google Drive, so check back regularly for updates! Click on the title of each website to see more information!
Winter:
1/3/18 –  Meet The Mentors: Why We're Here
1/10/18 – Mentor Speed Dating: Foundational Relationships within UWL
1/17/18 – Clifton Strengths
1/24/18 – Mentor Reveal & Golden Circle
1/31/18 – Introduction to Leadership Practices & Time Management 
2/7/18 – Empathy vs Sympathy 
2/14/18 – Conflict, Confrontation, & Self-Advocacy
2/21/18 – Putting Yourself onto Paper
2/28/18 – Failure & Resilience
3/7/18 – Mindfulness and Self-Care
Spring:
3/28/18 – Leadership Practices Part II
4/4/18 – Creating Your Passions & Discovering Your Leadership
4/11/18 – How to Talk to Anyone
4/18/18 – Adaptability
4/25/18 – Putting Yourself into Words
5/2/18 – Privilege and Diversity
5/9/18 – Socially Conscious Leadership
5/16/18 – Spring Celebration of Service and Leadership [Leadership Practice Presentations]
5/23/18 – Alumni Mixer
5/30/18 – Goodbyes